Yes, we can ship to
United States
Handle bar Risers for 1" handle bars with 4-inch rise and 1-inch pullback.
The Risers are CNC-machined from 6061 billet aircraft aluminum and polished to a chrome-like finish to give your metric cruiser a stylish custom look.
In addition to enhanced appearance, Cycle-istiC's custom-engineered 4-inch rise and 1-inch pullback actually improves handling by requiring less steering input to roll the motorcycle into a turn.
A great combination of style and function in a single package!
Fits: VT600 VLX '88-up, VT750 ACE '98-up, VF750 Magna 1994-2003,VT750 ACE 1998 and up, VT1100 Shadows except 1100ace.
(with spacer kit) VT1100C1/C2 Spirit 1997 and up, Sabre 2000 and up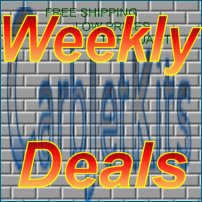 Our Jet kits include Everything for all Carburetors.

FREE shipping on Jet Kits to USA Only