Tsukayu Fairings
Tsukayu is the fiberglass products manufacturer and has been in business for over 10 years.
After continuous development and many years of experience, Tsukayu quickly gained a reputation for providing quality products and good service, and has become the major, well-known brand mainly in the motorcycle market. We offer a great way to customize your ride with quality products that offer all the features of the leading brands at affordable prices.
Tsukayu Hardbags and Fairings are made of strengthened fiberglass which make your motorcycle luggage and fairing more durable than other more expensive, non-fibreglass motorcycle products. Every Tsukayu products are made by talented craftsmen who are professional in transforming the highest quality, raw materials into a finished product by hand.
Why choosing fiberglass products instead of Plastic?
Fiberglass will maintain up to 25 times the strength of steel per pound, giving it a very impressive strength-to-weight ratio. Plastic does not compete with the strength of fiberglass.
The inherent strength of Fiberglass gives it exceptional durability in highly corrosive environments. It will also withstand heat, salt, and a wide array of chemicals, including chlorine and most acids. Plastic will not tolerate extreme environments or chemicals, leaving your personal equipment exposed to the elements.
Fiberglass is non-conductive RF transparent and acts as an insulator against electromagnetic fields, making it the best choice for electrical and electronic equipment storage. Plastic is less of an electrical insulator than fiberglass and, because of its limited durability, plastic will not protect highly sensitive electronic equipment as consistently as fiberglass.
Fiiberglass is highly resistant to corrosion caused by a multitude of environmental elements including salt air, chemicals, acids, and chlorine, making it the preferred choice over plastic. Also, it exhibits the least amount of expansion and/or contraction when compared to plastic. Fiberglass parts have excellent dimensional stability and will hold their shapes under severe mechanical and environmental stresses.
Fiberglass provides protection against UV rays, extreme temperatures, salt and a variety of chemicals including many acids. Though durable for less extreme conditions, plastic will not hold shape under extreme environmental stresses. UV light causes degradation of plastic, rendering it brittle and vulnerable to cracking. In addition, gas and oil can affect the integrity of a plastic storage unit.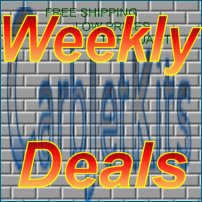 Yes, we can ship to
United States
Our Jet kits include Everything for all Carburetors.

FREE shipping on Jet Kits to USA Only