B.U.R.N.
CarbJetKits.com supports B.U.R.N
Please take a minute and read about BURN

Bikers Urban Response Needed for missing children (B.U.R.N.)
is a division of Team CFSI, founded by Chuck Foreman.
When a child goes missing it is critical that we provide a quick response by increasing awareness, gathering intelligence and assisting in whatever follow up actions are required by utilizing our national team of Biker volunteers.
B.U.R.N. was formed to assist in searching for missing children, including the distribution and collection of information during these incidents as well as to raise awareness of this growing epidemic.
Unfortunately, Law Enforcement manpower and resources can be limited at times. This is when we need any members that are available to assist them in what ever is asked of us, thereby increasing manpower and effectiveness of operations.
We are building a network of "ready to ride" volunteers across the nation to assist when they can in helping to locate missing children. When a child goes missing, these volunteers will be called into action. We need volunteers who are willing to repost information on missing children via the internet and be able to assist in ground efforts in or near their area when it arises. Because we realize that everyone has different schedules and capabilities we only ask that you do what you can, when you can.
We are relying on the caring hearts of Bikers to help us to make a difference in children's lives. I believe strongly that there is not a more caring group of people anywhere.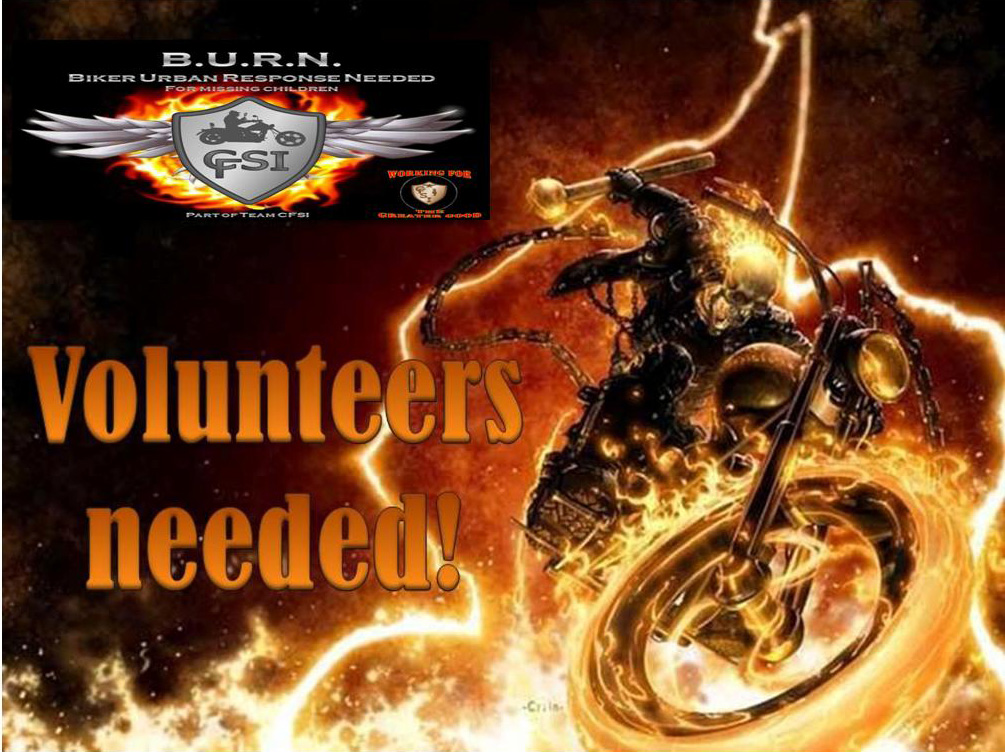 We are not a motorcycle club. Our purpose is to aid in locating missing children and provide community education on Child Safety in an effort to help prevent these incidents from happening.
There are no dues, no monthly meetings to attend. We will be having training sessions for our members so that we will be an effective team when called upon.
There is no back patch. We do hope to soon have available to our members t shirts, etc to identify us during search efforts.
We are not a brand specific organization, if you ride, we need you, 2 wheels or three.
We are not attempting to recruit members away from any other organizations, on the contrary, we encourage all individuals to join us in our mission regardless of any other membership you may have (with that organization's permission).
We are glad to accept Bikers of all backgrounds, believing that through the diverse group of people known as Bikers they will each be able to bring different skills necessary to us as a team.
Please consider this carefully. It only takes a few seconds for a child to go missing. What if it was your child? Wouldn't you want someone with your drive and determination searching for them?
Take a few minutes to volunteer with BURN today. Find us at:
Join us today- make a difference in a child's life.
National President, B.U.R.N.
B.U.R.N. National President - Chuck Keplar
I was very Honored and humbled at the same time when Chuck Foreman explained his ideas for BURN to me and then asked me to head it up for him. After speaking to my wife of over 20 years Shellie, I told Chuck I would take it on. He asked me to tell you a little about me, so here it is.
I live in Lockhart TX, a small town about 20 minutes southeast of Austin. I have been riding since the mid 1970s and have owned many different makes and models of motorcycles over the years. I currently ride a 1984 Harley Davidson FXRS that I recently finished rebuilding.
I have met Bikers from many different walks of life over the years and made a lot of good friends along the way. I have found the Biker culture to be a caring and giving one, looking out for each other, always there to help when needed.
I coordinate and host 3 motorcycle runs a year, each one benefiting a different local charity and raising over $10,000/year combined. Over the years the runs have increased in size and popularity, drawing more and more riders from across the state. I feel that the experience and contacts I have gained through these runs will be beneficial in building a network of volunteer bikers who will be ready to ride when called upon.
Having lived and ridden in other states as well, I hope to be able to utilize the friends and contacts I have there for BURN as well.
I feel that BURN is a very important and invaluable tool in finding missing children and believe that the Biker community is more than up to this task. I hope to be able to live up to the expectations that Chuck has for me as I learn and grow with BURN. I hope you'll join me and come along for the ride.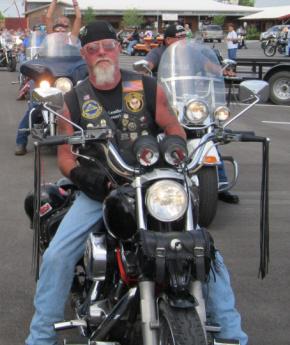 .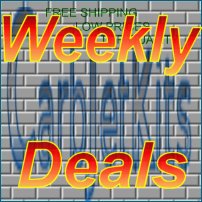 Yes, we can ship to
United States
Our Jet kits include Everything for all Carburetors.

FREE shipping on Jet Kits to USA Only