Vacation Notice! Please read before ordering!
We are taking a short Vacation

Our store will remain open for Purchases



We resume shipping out orders on 12/09/19!


Jet Kit Calculator Techincal
How does the CarbJetKit jet Kit Calculator work?
The Calculator is the only existing tool to determine what Jet Kit is needed for your Motorcycle considering altitude, ambient temperature and applied intake and or exhaust modifications.
This being said, the CarbJetKit Jet Kit Calculator allows you to purchase a Jet Kit fit for your bike without the need to buy a kit that simply suplies multiple jets etc.. therefor saving you not just a lot of Money, but also a lot of tinkering hours.
Let's get to the point on how the carbJetKit Calculator really works.
First you need to know that all bikes are factory set to run at sea level, at 68 dergrees Fahrenheit and with no intake or exhaust modifications done. At this they will still run slightly Lean!
Based of this, the CarbJetKit Calculator will factor in the altitude and ambient temperature and then give you the options to choose between the modifications you made to your bike, presenting you with the optimal Jet Kit for your Bike.
To establish the altitude correction factor, we did take a look at how air pressure and elevation are in relationship.
We concluded that with increased altitude, the air pressure drops as indicated in the chart below.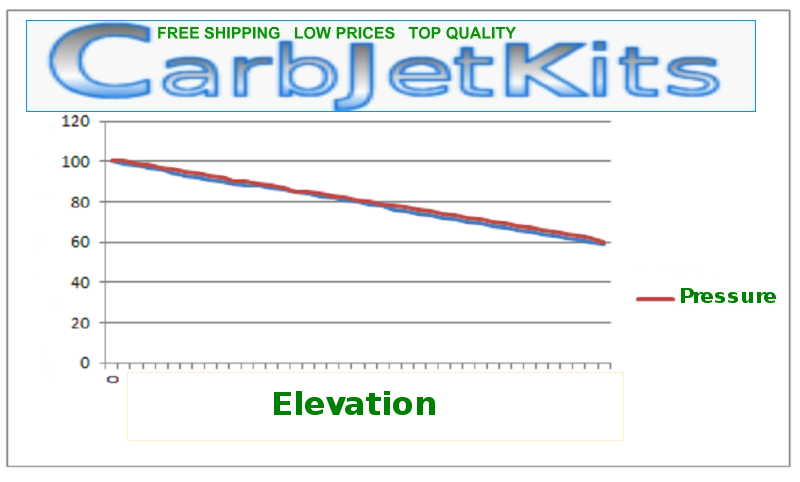 With a decreased air pressure, the oxygen concentration also drops relatively, therefor making your bike run richer in higher altitudes.
A similar conclusion can be made for the relationship between temperature and oxygen concentration, meaning that at higher temperatures the bike will run richer.
For both, we translated the charts in to correction factors and applied it in to the Poisuelles law to calculate the new value for your bikes main and pilot jets.
This method is extremely accurate with regards to pressure changes due to the altitude and to temperature changes, but one shortfall is that you will need the altitude of the region you plan on riding, but we provided a link on the Jet Kit Calculator pages where you can get this information instantly, so it is the perfect method of determining your jet sizes!
At this point we use a second set of correction factors to allow for jet size adjustments in regards to intake and or exhaust modifications made. We decided that we needed to create 3 categories as follows;
for no or light modification
eg. stock airfilter and no exhaust mod, stock air filter and exhaust mod, k&N air filter and no exhaust mod
for moderate modification
eg.k&N air filter and exhaust mod, k&N air filter and light aftermarket exhaust
for Heavy modification
eg. K&N air filter and aftermarket exhaust. or basicly an open exhaust
for Ultra heavy modification
eg. high flow intake (EX: Thunder Torornado or Thunder 360) and full open exhaust.
Ue our Bike specific calculators where all information exept for altitude and temperature is already being accaunted for.
Comments
05/04/2017, 17:47
11/09/2014, 17:39
02/24/2014, 01:24
11/28/2013, 22:57
05/20/2013, 23:57
05/08/2013, 04:48
04/26/2013, 22:50
11/24/2012, 09:25
New post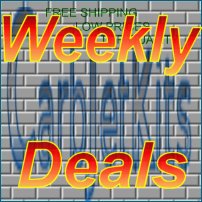 Yes, we can ship to
United States
Our Jet kits include Everything for all Carburetors.

FREE shipping on Jet Kits to USA Only